Invisalign Clear Braces
If you're looking to straighten your smile without the hassle of traditional bracket and wire braces, Invisalign alignment tray orthodontics may be the best option. Our skilled dentists offer this innovative treatment solution for teens and adults who want a faster, subtler, more comfortable way to transform their crooked or misaligned smiles. Clear and removable, Invisalign alignment trays make straightening teeth a snap. Contact our team to schedule an appointment today. Miller Dental Arts offers treatment for patients from Fort Lee, West New York, and all surrounding communities.
Benefits of Invisalign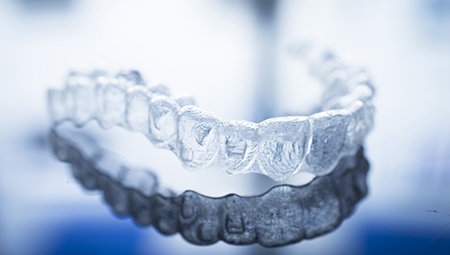 Inconspicuous appearance no bands, wires, or brackets just clear plastic
Shortened treatment time usually only about twelve months
No adjustment appointments only a few short checkup visits to ensure progress
Removable alignment trays mean you won't need to change diet or oral hygiene routines
Most patients find alignment more comfortable compared with other orthodontic options
How Does Invisalign Work?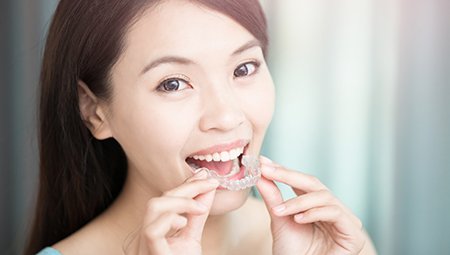 Invisalign clear braces are a fast, comfortable, and nearly invisible way to straighten crooked teeth, close gaps, and create beautiful smiles. Invisalign provides an attractive alternative to traditional orthodontics. Because the comfortable, acrylic aligners are virtually undetectable to others, you'll maintain a mature, professional appearance while you enhance your smile. No metal. No feeling self-conscious. Dr. Miller customizes Invisalign treatment for each patient's individual straightening needs. After we design your custom aligners, a certified Invisalign lab fabricates them to our high standards of excellence.
The aligners are removable, so you won't experience diet restrictions or oral hygiene changes. Take your clear braces out, eat what you like, and clean your teeth, then pop the aligners back in to continue straightening. It's that easy. You'll wear each set of alignment trays for a predetermined treatment time, typically about two weeks. Then, you'll exchange the current set with the next in the series. Overall treatment times range from 6 to 18 months, less than traditional metal braces. Many of our patients complete Invisalign treatment in less than a year.