Dental Implants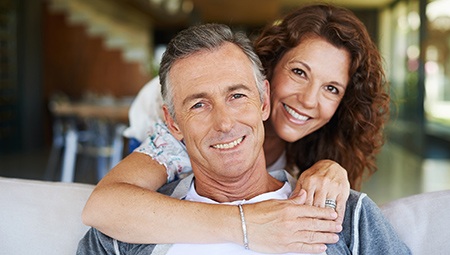 For decades, dentists have relied on tooth replacement solutions that only repaired those parts of the teeth visible above the gum line. While this provided patients with improved appearance and minimally restored tooth function, there were numerous disadvantages to these traditional tooth replacement options. Without the underlying root structures of teeth, these restoration options did not offer the long lasting, natural feeling results that are possible with implant supported tooth replacement At Miller Dental Arts, we offer patients from Fort Lee, West New York, and all surrounding communities complete dental implant placement and restoration services. Contact our team to schedule a dental implant consultation to explore all of your dental restoration options.
Benefits of Dental Implants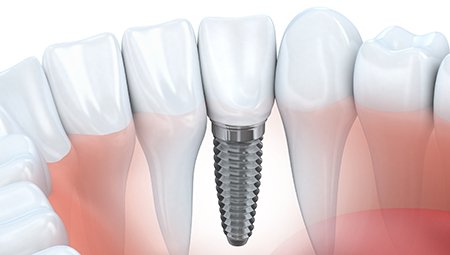 Dental implant supported tooth replacement offers numerous benefits when compared to traditional tooth replacement options that only repair the visual portions of the teeth above the gum line. Some of the many benefits include:
No need for gooey denture adhesives to achieve optimal stability
With proper care, dental implants can last decades or even a lifetime
Bone density is preserved through stimulation from the implant post
Implant posts look, feel, and function like natural dental structures
Extremely versatile, implant supported tooth replacement is available for any number of missing teeth
Disadvantages of Traditional Tooth Replacement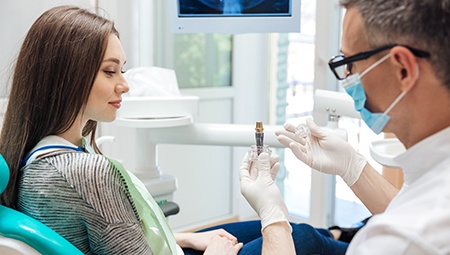 Traditional tooth replacement solutions have numerous disadvantages compared with dental implant supported restorations. In addition to neglecting the replacement of the lost root structure, these replacement options also relied on other oral structures to support the restoration. Dental crown supported fixed bridges unnecessarily remove healthy tooth structure in order to attach the dental crowns that support the replacement tooth or teeth. Partial dentures attach metal clasps to healthy tooth structure, and the weight and pressure of a traditional full denture can bruise and damage soft tissue.
How Dental Implants Work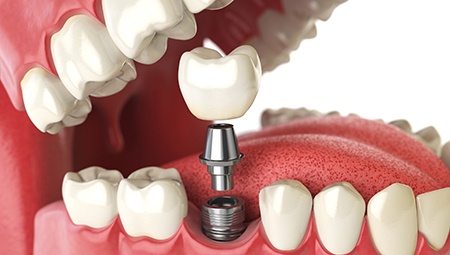 Dental implant supported tooth replacement is completed over the course of two treatment phases. The first step is the surgical placement of dental implant posts into the jawbone. Following this procedure, patients will need to wait three to six months before we attach the abutment and dental restoration. During this time, the implant post will fuse with gum tissue and supportive alveolar bone to create a natural functioning support structure for the replacement tooth or teeth. Once the implant post or posts fuse with the supportive structures, we can attach any type of tooth replacement prosthetic from a single crown to a full denture.