Bradley S. Miller, DDS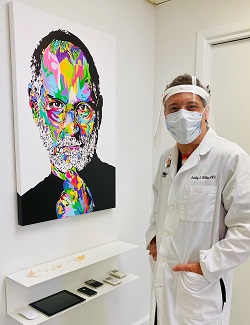 Dr. Bradley Miller has over 11 years of experience in the field of dentistry. With an unmatched passion for technology, he is dedicated to staying current with the latest cutting-edge dental procedures. Through digital CAD/CAM dentistry, Dr. Miller utilizes 3D printing and modeling techniques to place minimally invasive dental implants while minimizing risk and maximizing esthetic results.
Dr. Miller has a love of Apple's products and design philosophy ever since he received an original Apple IIc computer as a gift from his parents in 1984. Steve Job's design philosophy that "every little detail matters, even the one's you can't see" is Dr. Miller's core philosophy of dental esthetics.
Throughout his career, Dr. Miller completed advanced aesthetic dental training that includes full mouth restorative work, in-tooth colored fillings, endodontics (root canals), crowns, porcelain laminates (veneers), Invisalign (orthodontics), implant restorations, whitening, extractions, among many other treatments and procedures.
Dr. Miller earned his Doctorate of Dental Medicine from Rutgers University in New Jersey. Afterwards, he completed his General Practice Residency at Robert Wood Johnson University Hospital. He received further advanced training in computer guided implant surgery and Invisalign Orthodontics.
Dr. Miller and his wife, Jill, have two wonderful children. In his leisure time, he loves gardening, tending to his salt-water aquarium, cooking, and spending quality time with his family.
If you are looking for a dentist who is passionate about providing the best possible care, and dedicated to the patients whom he serves, Dr. Miller would love to meet you.
More to Explore