Bradley S. Miller, DDS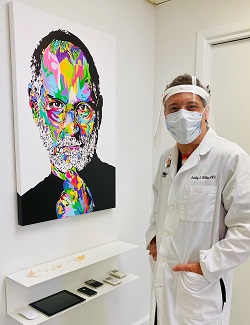 Dr. Bradley S. Miller, Dr. Paul S. Miller's son, oversees our West New York, NJ dental office. He completed a bachelor's degree at Ithaca College before attending Rutgers University, then obtained his doctorate in dental medicine at University of Medicine and Dentistry of New Jersey. After dental school, Dr. Bradley S. Miller completed a one-year General Practice Residency (GPR) at Robert Wood Johnson University Hospital. With a strong commitment to lifelong learning, Dr. Bradley S. Miller attends monthly Middlesex County Dental Society meetings, and is currently a member of the New Jersey Dental Society, the American Dental Association, as well as the New Jersey Dental School Alumni Association.
To invest in our community, Dr. Bradley S. Miller has volunteered with Special Olympics in Trenton, the Smilemaker's Program through UMDMJ in Newark and Robert Wood Johnson in New Brunswick, and God's Love We Deliver in New York City. In addition to his charitable work, Dr. Bradley S. Miller has over 25 years of experience playing classical piano, an endeavor which exemplifies his love for the creative arts.
More to Explore