Preventive Dentistry
General dentistry is an essential aspect of ongoing oral health care for every patient at Miller Dental Arts. We create personalized treatment plans for everyone we see, but the backbone of these plans is regular maintenance appointments in our two convenient New Jersey dental offices in Fort Lee and West New York. During these visits, we can screen for common oral health concerns, provide general dental services like sealants, and most importantly, we partner with patients to ensure they achieve and maintain their desired level of oral health. Contact us to schedule an appointment and begin your journey to a lifetime of healthy, happy smiles.
Benefits of Preventive Dentistry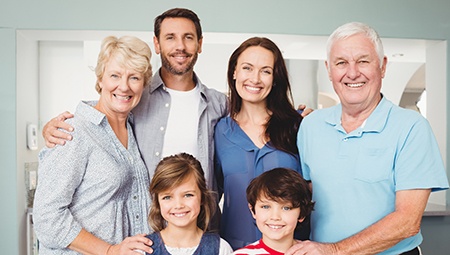 Ongoing preventive care reduces your potential for experiencing serious health problems over time. Dr. Miller can identify damage and decay at its earliest, most harmless stages and treat it before it causes true harm.
By attending regular checkups and cleanings, you improve the chance that you'll maintain a full set of functional teeth well into old age.
Your smile will stay durable and beautiful!
·
Checkups & Cleanings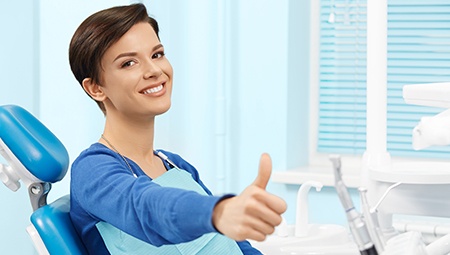 As comprehensive general dentists, the Miller Dental Arts doctors place high priority on preventive dental care. Six-month checkups include important screenings for periodontal disease, the leading cause of adult tooth loss, and oral cancer, a deadly disease that claims 7500 Americans each year. In addition, our team will update your records and address any pain or problems you're experiencing. For instance, if you grind your teeth, snore, or have chronic headaches, we can probably help. The dentist will examine your teeth for worn dental work, tooth decay, and other structural damage, then suggest conservative restorations for optimal oral health.
In addition to checkups, please schedule a professional dental hygiene visit every six months. At this appointment, our hygienist will examine your gums for signs of gingivitis or advanced periodontal disease. Many people don't know they have gum disease, but this serious condition increases the risk of heart attack, stroke, diabetes complications, Alzheimer's disease, low-weight births, and other health problems. At your cleaning, your hygienist will address gum disease concerns and thoroughly clean your teeth, remove plaque, tartar, and decaying food particles that contribute to disease and halitosis (bad breath). Our hygienist will answer all of your questions about brushing, flossing, home care products, and dental health, as well. You'll leave with silky-smooth teeth and a fresh outlook on your smile!
For your convenience, after a patient's initial appointment, if checkups and cleanings are scheduled every six months, we can reserve both appointments consecutively, so you have one visit to attend. Upon request, we'll be happy to schedule parents' and children's appointments together, as well.
Dental Sealants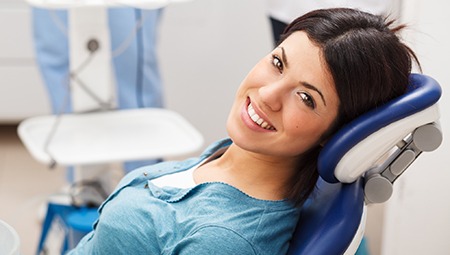 Sealants are used to protect teeth from potential damage that can be caused by bacteria and plaque buildup. Sealants are applied in a thick liquid state where they seep into crevices and pits where plaque can accumulate. Once in place, a curing light is used to harden the sealants onto the surfaces of teeth preventing potential damage and decay. Once in position, these dental sealants will remain in place protecting the smile for several years.
Oral Cancer Screening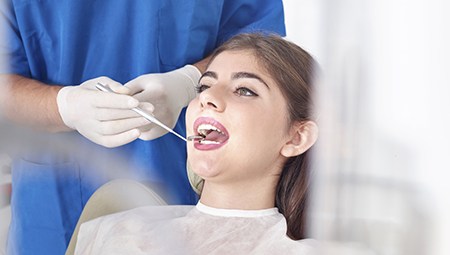 In order to reduce the number of deaths associated with oral cancer each year, we include quick, comfortable screenings during every six-month checkup. If you notice any of the warning signs including soft tissue discoloration, lumps or bumps, and chronic hoarse voice, please let our team know and we'll take special care during your screening.
Nightguards for Bruxism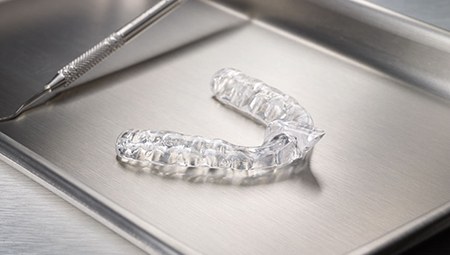 Sleep soundly and prevent potential dental damage that can be caused by unconscious teeth grinding and clenching with custom crafted nightguards from our team. We recommend patients use these comfortable appliances to protect their smiles if they suffer from bruxism. Simply place the nightguard over your teeth before you go to bed, and your smile will be protected from any of the potentially adverse effects of nighttime teeth grinding and clenching.
TMJ Therapy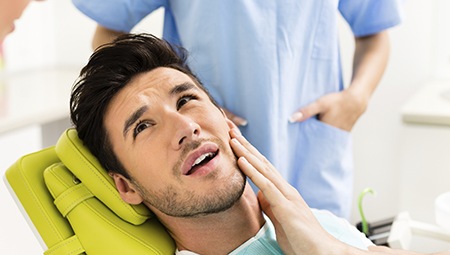 The temporomandibular joints (TMJ) are the small, delicate connective tissues that attach the jaw to the skull bone. When the TMJ function properly, the result is comfortable, unimpeded jaw movement while eating, speaking, and smiling. Patients who experience TMJ dysfunction know the result can be severe pain and limited jaw movement. We offer numerous therapies to relieve pain and renew full, pain-free motion.
Gum Disease Therapy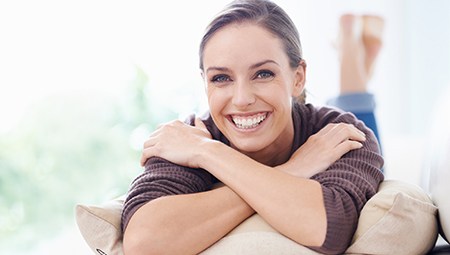 Periodontal (gum) disease affects millions of US adults. When this disease occurs, our team offers a variety of treatments to renew oral health. We'll begin with more frequent professional teeth cleanings, and we may progress to more advanced treatments as necessary including scaling, deep cleaning of tissue below gums, and root planing, smoothing of tooth roots to prevent future plaque buildup.
Emergency Dentistry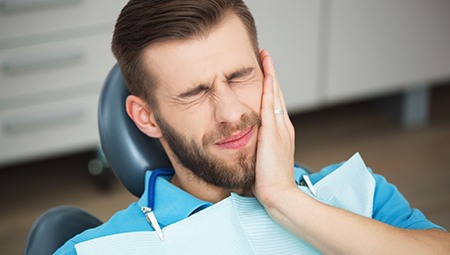 If you or a loved one experience a dental emergency, the Miller Dental Arts team wants you to know that we're here to help. Call our office right away, and we'll do our utmost to provide urgent dental care on the same day that you contact us. For those patients who don't know whether or not their situation requires urgent care, we still encourage you to reach out to our team. The sooner we begin treating any potential dental damage, the more likely we are to be able to provide conservative treatment options.